Commercial painting is not as easy as it might seem! Commercial buildings are larger than residential homes and also have more details to work around when painting. For example, a commercial building might have fire alarms, business signage, specialty lighting, and other such obstructions.
With this in mind, it's vital to consider the best commercial painting methods before you begin. In turn, you'll enjoy a stunning new paint color that makes your building stand out. You might also find the space more welcoming to staff and visitors alike!
How to Prep for Commercial Painting
As most people already know, preparing to paint is often more work than painting itself! First, make sure your building is up to code and schedule any repairs that might otherwise damage your fresh paint. Second, check on codes for required or restricted paint types and colors for your property.
A commercial property owner should also give added consideration to paint colors and designs. This is especially important if you receive visitors to your site often. A paint scheme matching your logo, corporate lettering, and other such details helps them find your building quickly.
Also, consider that some paint colors might affect someone's perception of your company and the mood of a building's occupants. For instance, softer colors might calm and relax your staff while vibrant shades offer a burst of energy. Primary colors are often associated with children and might not work for a professional company. On the other hand, dull gray and brown can make a building look tired and drab.
Lastly, ensure you schedule needed power washing before painting a commercial building. A pressure washing pro ensures a complete, thorough job. Also, paint adheres more readily and offers a more vivid color when applied over a clean surface.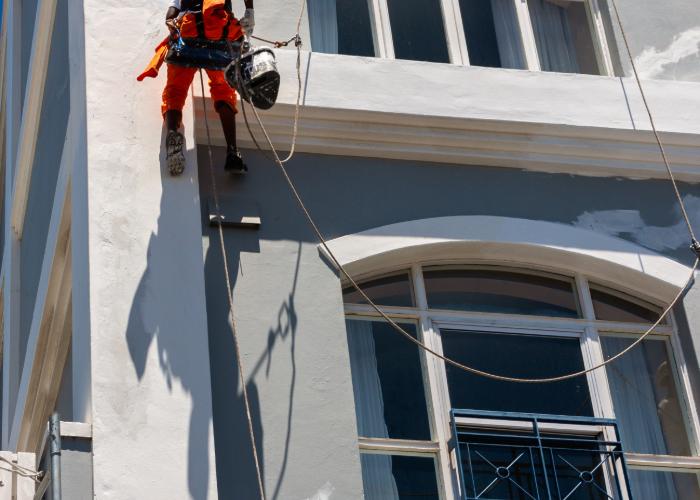 Check Your Budget and Plan Your Schedule
Repairs and cleaning might use up a large portion of your commercial painting budget! Consequently, you'll want to recheck your budget before you start ordering paint. If you'll be using a contractor, note if they charge extra for added details such as creating stripes or other designs. Also, you might need to have certain areas painted now and then wait until you can afford to paint the rest of your structure.
Scheduling the painting properly is especially vital for commercial facilities! You probably can't just have your staff take the day off to get them out of the way. You also want to ensure minimal disruption to a storefront or retail facility.
With this in mind, ensure you notify your staff and work with them to find solutions to that disruption. As an example, you might have some employees move to a lunchroom temporarily while painting their work area. Once that paint is dry, have them return to their desks and then tackle the lunchroom. This means less disruption than trying to paint all work areas, break rooms, and other spaces at once!
Prep Work and Walk-Through
As with any painting project, prep work is vital. Ensure you've checked every surface you'll be painting and have sanded off old paints and finishes. Cover anything you won't be painting with newspaper and painter's tape. Also, apply painter's tape to edges along doorframes and other areas, to ensure a precise finish.
Before painting, perform one last walk-through. Check all outlets, faucets, light fixtures, and other areas to ensure they're covered. Also, it's vital that you provide adequate ventilation throughout your building! Lastly, check if there is a place for cleanup and on any requirements for disposing of leftover paint and other materials.
Tips for Applying Commercial Paint
Here are some helpful tips when completing commercial painting. As with any paint application, ensure you read package directions before you start painting. Also, you might apply one coat in an obscure area before moving on. Let that coat dry and note if it's the right color choice.
Additionally, ensure you remove painter's tape before applied paint dries completely. Otherwise, dried paint might chip off the tape and create a very unsightly appearance! Lastly, ensure the paint is dry completely before moving staff back in that area or opening it to customers and clients.
What Is the Best Color for Commercial Buildings?
Before you decide a color for your commercial building, ensure you've checked area regulations and requirements. Once you've determined any restrictions or other directives, note some added details about various building colors:
Blue is a relaxing color that many also associate with technology and professionalism. In turn, it's a great choice for just about any office or computer related company.
Orange is vibrant and energetic. It's also associated with cost savings, making it a great choice for discount stores.
Green is an excellent choice for anything related to the environment, landscaping, and other such companies. Also, it's often associated with money, so consider green if your business appeals to the cost-conscious consumer.
Red stimulates the appetite, making it an excellent choice for restaurants!
Primary or bright colors are excellent for anything related to children. Consequently, consider a mix of orange, yellow, red, blue, and green for childcare centers or children's stores.
Use traditional earth tones for home goods stores. This would include shades of brown, reds, greens, and anything associated with nature.
What Is the Difference Between Commercial and Industrial Painting?
Commercial painting refers to painting any commercial structure, versus a residential home. Painting a commercial building usually includes color planning, incorporating stripes, and so on. The goal of commercial painting is to provide a fresh appearance for your structure.
On the other hand, industrial painting is about function over form. In other words, industrial paints aren't meant to create a stunning look but to protect building surfaces and materials. Industrial paints also work to repel grease and oil, and are easy to clean.
Note, too, that industrial paints are used for more than just buildings! Industrial paints cover cars, heavy-duty equipment, road signage, and other items exposed to the elements. They're also used on garage floors, warehouse floors, and other such surfaces.
Minneapolis Exterior House Painting Pros is happy to provide this information about commercial painting to our readers. Hopefully you found it helpful! If you need expert paint services, contact our Minneapolis painting contractors. We offer FREE consultations and price quotes for both commercial and residential painting. To get your property started, call us today!